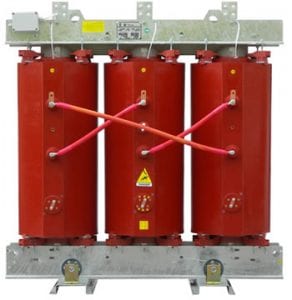 Transformers are electric equipment that change the voltage and the current of electricity for effective and efficient transmission and distribution. They have a multitude of uses but a good example of their use is in power generation facilities.
Transformers are used to increase the voltage and to decrease the current in order to transport electric energy across transmission lines. When the electricity reaches the end user, transformers are again used to then reduce the voltage and to increase the current in order to make the electricity suitable for general use. This process of transforming voltage generates a lot of heat and therefore transformers must contain effective cooling systems.
It is these cooling systems that differentiate transformers from each other, for example dry type transformers dissipate heat directly into the ambient air and liquid cooled transformers dissipate heat into liquid mediums.
Cast resin power transformers are so called because they use epoxy resin to encase the windings. First developed in the 1960s in Germany as an alternative to oil-filled transformers they are able to withstand temperatures as high as 188 degrees Celsius. Heat passes through the epoxy and dissipates into the surrounding air.
Cast-resin power transformers are self-extinguishing, so guaranteed against fire hazards and require no fire-proof vault for indoor installations; totally insensitive to harsh environments because the epoxy protects the windings from dust and corrosive atmospheres, whether that be pollution or condensation; certified silicone free and because these transformers are dry, without cooling oil they are quick and easy to install with minimum maintenance required.
The applications for cast-resin power transformers are varied – from a wide range of infrastructure, commercial, public and residential developments to stepping down the voltage of electricity from the electric grid to lower levels. While oil-filled transformers are still widely used throughout the world, cast resin transformers are increasing in popularity because they offer better efficiency, less maintenance, higher fire resistance, and are more environmentally friendly due to the lack of cooling liquids which eliminate the possibility of oil leaks.
AM Transformers are a global leader in the field of electrical power equipment and we supply a collection of Cast Resin Power & Distribution Transformers with the choice of both recently manufactured and re-engineered solutions available. Our Cast Resin Transformers are supplied in accordance with internationally recognised standards and are designed to suit your requirements either in IP00 specification or in sheet steel ventilated enclosures complete with HV and LV cable boxes.